Description
Drive through and trick or treat around our gently spooky Historic Village
Location
Buffalo Niagara Heritage Village
Date & Time
October 22nd and 23rd, 2 PM - 9 PM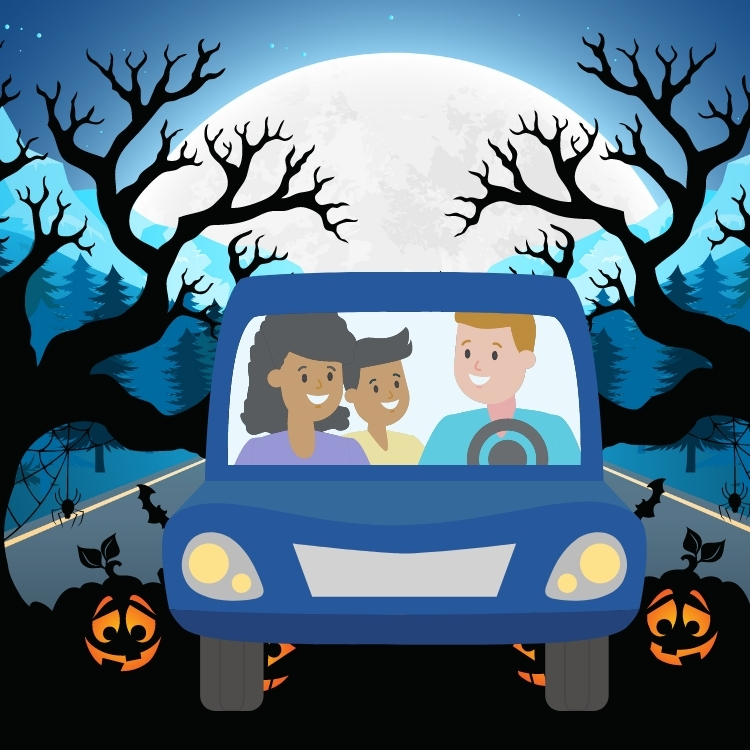 A safe, gently spooky outdoor event for children.
Have a ghostly good time!
Admission Includes:
One Car per Ticket
Candy
Festive Decorations
Last Admission at 8:45 PM
Members receive free admission to the Halloween Drive-Thru Trick-or-Treat. Please make sure you are signed into your BNHV account to receive your discount.
Please make sure to choose the correct time for your tickets! Due to availability, BNHV may not be able to change your time slot.
Event Details:
This event is a drive through of our Historic Village. Attendees must remain in the car at all times.
Attendees must follow all instructions from BNHV representatives, including staff, volunteers, and traffic controllers.
It takes approximately 15 minutes to drive through the Village. Cars will be given a map of the Village, with a clearly marked route. 
All tickets must be purchased in advance. No tickets will be sold at the entrance.
Tickets will be sent via email with valid email address. We will not confirm your order by phone. All attendees will be sent a QR code for contactless check-in. Attendees must have their QR code either printed or on their phone screen.
Please bring treat bags or pumpkins. Trick-or-treat bags will not be given out.
Candy may contain nuts, nut products, or other allergens.
All cars are required to have their headlights on at all times.
Non-compliance with any of our safety procedures will result in the immediate removal of the visitor. In the event of an eviction from the event, no refunds will be given.
---
Buffalo Niagara Heritage Village
COVID-19 Safety Regulations
To accommodate new state and local health and safety regulations developed in response to the COVID-19 pandemic, we have implemented some operational changes. Please thoroughly review the following updates to learn how we plan to keep you safe during your visit with us.
We kindly ask that any guests who feel unwell, have a fever, or exhibit any other symptoms please stay home. For more information about our refund policy, please click here.
It takes a village to ensure a happy and safe experience for all.
Thank you for your cooperation in helping us to stay healthy and stop the spread. 
Important Updates
Due to CDC capacity restrictions, BNHV is utilizing a timed-ticket entry system. Advanced reservations are required for all event attendees.


Capacity is limited to 40 cars per hour.
Safety Protocols
BNHV takes your health and safety seriously. We have implemented the following cleaning and safety protocols:
All BNHV staff, volunteers, and traffic controllers will wear masks at all times.
Check-in will be completely contactless. Please have your QR code ready for scanning.
All volunteers dispensing candy will wear clean gloves at all times.